I don't like to wash my wetsuit. This is usually the last step after wrap-up and it involves taking suit from the bag, going to backyard, hosing it inside out and then carrying it back to dry. Really kills your mood after the session.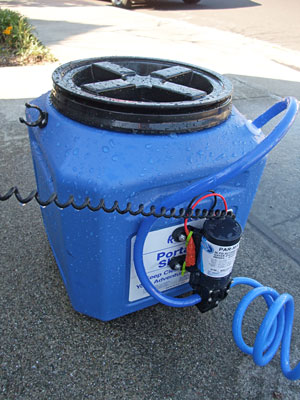 Enter the portable garden hose. Wash your suit at the launch, on a hanger hooked to the rack, pack it clean, and, if you plan to sail next day, don't even take it out of the bag.
Good idea. I searched the Net and could not find one to buy. I searched again, and came up with Big Kahuna. Expensive, but think about all the time saved!
It turned out that Big Kahuna does not deliver much pressure – water flows out of the nozzle, but that's it – no throw. Not something you want to wash your 7.5 with. (They are using 12V bilge pumps, which are designed to deliver volume, not pressure).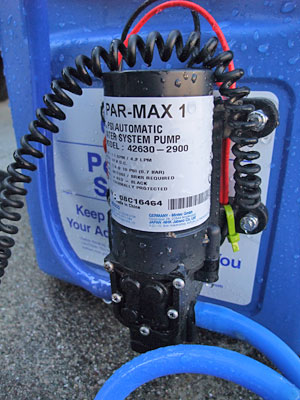 I liked the can, but needed more pressure.
(This can looks awfully close, by the way. They also have something that looks like Kahuna's lid. Cool paws print pattern, too

; but any paint bucket should do, really)
It turns out that Par Max series of freshwater pumps are pretty inexpensive for 35 PSI of water pressure, automatic pressure controlled on-off switch and sealed construction.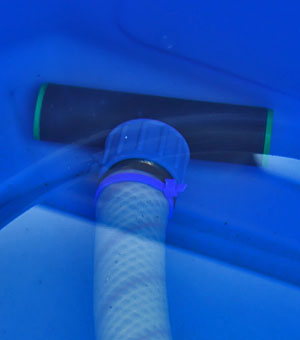 Just rig a drip-irrigation tee, with a strainer –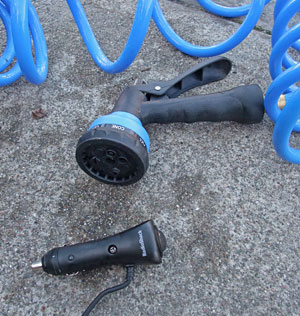 Add $11 coiled hose with plastic head from the Home Depot; 12V radar detector coiled cord from Radioshack for $10 and voila!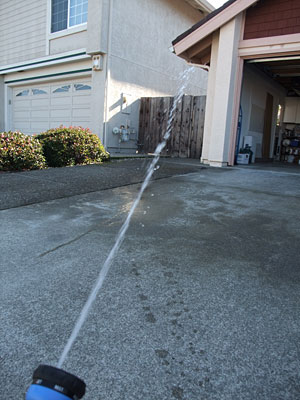 35 PSI is quite a throw.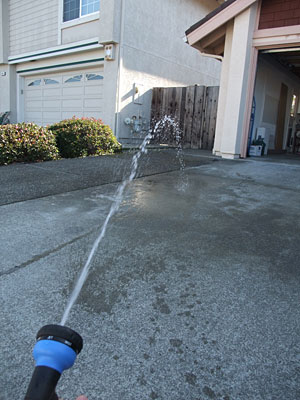 Sustained water delivery. The pump delivers 1 GPM – 6 minutes of pressurized water, enough to wash salt off my 5.2 and 5.8, clean wetsuit, harness and booties.
If you are interested, and live in the area, but don't want to build one, I would be happy to sell mine. I would like to experiment with 3 GPM pump, as I am impatient and would like to be finished in 2 minutes

Your $100 would go directly to portable hose research.